Parque de La Batería
One of the town's green lungs, with plenty of options for leisure and fun
With its privileged position overlooking the sea, La Batería park is one of the green lungs of Torremolinos. It's the perfect place to disconnect, put the asphalt behind you and enjoy nature without leaving town. Located to the north of La Carihuela and next to Montemar Alto train station, the park offers more than 74,000 square metres for leisure, sport and family fun. It contains more than a thousand trees of 25 different species.
Acting as the Central Park of Torremolinos, La Batería park is enjoyed by lots of people who make the most of its numerous delights. The main attraction is the manmade lake measuring more that 9,000 square metres, which you can navigate thanks to a reasonably priced boat-hire service.  The carousel, which has the same opening hours, is a magnificent classical roundabout in the Venetian style, with almost 50 figures of giraffes, hobby horses, carriages and cottages for the enjoyment of young children.
There is also a 15-metre-high observation tower, a network of footpaths, an exercise area, a bike lane, a running track and a large children's play area.
Its name originates from the old defensive artillery battery that was sited here. In fact, some of the old artillery cannons and two underground bunkers can still be seen. La Batería park has more than 150 parking spaces nearby and a main entrance. Pets are not allowed in the park.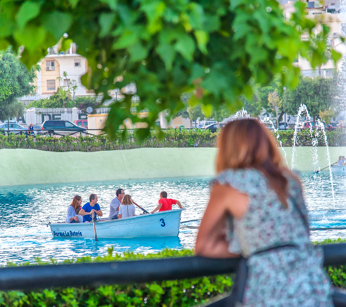 Details
Avda del Carmelo s/n – 29620
All year – Monday to Sunday
August from 9 am to 11 pm
Free
rowingBoat hire 17 pm to 22 pm
faceCarousel 17 pm to 22 pm
Services
directions_busPublic transport
local_parkingParking
wcToilets