The Centre
Hotels, bars and restaurants, shopping, events and great nightlife in Torremolinos
The centre of Torremolinos is alive 365 days of the year. Its streets, full of stores and restaurants, are perfect for discovering the way in which tradition and modernity combine in this town perched on the western shore of Malaga Bay.
The cuisine is a strong point, offering variety that ranges from tapas, fried fish and shellfish to the finest haute cuisine, with restaurants to suit all tastes. The centre also has a wide assortment of open-air cultural events and an exciting nightlife for visitors wishing to prolong the fun.
The centre of Torremolinos has many noteworthy parts, but one stands out above all: calle San Miguel. It is the town's commercial hub and one of its most visited and bustling arteries. You can find almost anything: bars, restaurants, shops, tourist services, etc. Leisure, culture, fashion, sport, accessories, jewellery and gifts make up a selection for all tastes and ages.
It is the town's true heart, which also beats in streets such as calle Cauce, calle Casablanca and avenida Palma de Mallorca, not forgetting the plazas Andalucía and La Nogalera. Special mention should be made of the redevelopment which plaza Costa del Sol, currently traffic-free, is now undergoing, along with plaza de la Independencia, accessed from calle María Barrabino.

Plaza La Nogalera y Pueblo Blanco
Plaza de La Nogalera is known for its superb atmosphere, both during the day and at night. It's the preferred spot for LGTBI tourists and its surrounding areas host a large number of bars, restaurants and businesses of all types. Many LGTBI tourists choose Pueblo Blanco for accommodation during their holidays, a charming old complex of Andalusian-style apartments, with fountains, vegetation, small plazas and many nightlife establishments, right next to La Nogalera.
The local train station is located in this plaza in central Torremolinos, only a few minutes' journey from the airport, María Zambrano intercity train station, the centre of Malaga or Fuengirola, and other parts of the town. Timetables and journey times are available on the RENFE website.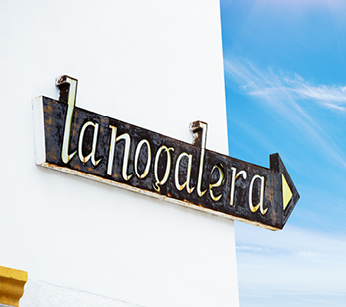 Services
hotelHotel Accommodation
restaurant_menuRestaurants Food and drink
storeShops
accessibleAccessible
local_parkingParking
wcToilets