La Gran Senda (Great Path)
Torremolinos forms part of this trail that connects the province of Malaga
The Gran Senda de Málaga (Great Malaga Path) is a pioneering route in Andalusia. It connects with the Camino Mozárabe de Santiago (Mozarab Way of St James) and forms part of the national and European network of paths. Its stage 34 (GR 249, Benalmádena-Alhaurín de la Torre) passes by Torremolinos, in an interesting lineal route of 4.2 kilometres which crosses the highest points of the municipality's mountains and connects with the Benalmádena cable car, the starting point of several hiking trails. It is a route where a wealth of flora and fauna can be appreciated.
The stage includes a variety of interesting features, such as the Punta Paloma survey point, with magnificent panoramic views of the Bay of Malaga and Torremolinos, or the link with the PR-A 172 and the Camino del Agua (Water Trail) from the pass of Puerto del Canuto, close to Corrales de Caliche (Caliche livestock pens). The route between Torremolinos and Alhaurín de la Torre ran through this area, which was the site of intensive farming and considerable black market activity.
The pass of Puerto Blanquillo is surrounded by thick pine forest visible from the Guadalhorce valley, with el Torcal in the background. From here, there is access to the municipally owned Cañada de Lobo, mountain complex, which brings together various buildings of interest and offers rural lodgings. The design, location and construction volume of the buildings and infrastructure are extremely respectful of the environment and ensure they cannot be seen from the motorway, to the extent that the refuge and shelter are only perceptible on arrival at the complex.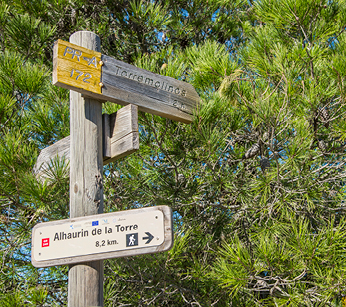 Details
Free
Weather forecast

0%

25 km/h NorthWest

Min:22º C / Max:28º C

Ind. UV: 7

Little Bit Cloudy

Weak to Weak

22º C
© AEMET